In this February, as every year, was celebrated the Valentine's Day, day become that of the lovers.
An article of Wikipedia gives rather complete information onto the origin of this celebration, heathen origin and what the church transformed into Christian festival of February 14th, anniversary of 2 or 3 Valentin.
VALENTIN, pope, Romain of nation, succeeded Eugène II. and died forty days after his election, 21. In September of the year 827. He had successor Grégoire IV. * Baronius, in annual.
VALENTIN (St). Priest and martyr of the church of Rome, in the III.th century, was solemnly honored in the church Roman; but the acts of his martyr deserve no claim. We make his anniversary to 14 of February. * Martyrolog. Roma. Acta apud Bolland.
Moreri dictionary of 1725
It is a day also where very often the roses serve as message of affection.
Of passage at friends, these roses in front of a picture seemed to me to be able to be offered to all,
... as well as these other roses, this below, of my garden or other places of greenery..
And of course, the poem of Ronsard can be quoted here !
Cute, let us go to see if the rose
Which this morning had opened
Its dress of purple in the Sun,
Not just in time lost, this sweetness,
The folds of its purple dress,
And its complexion in your same.

Tired ! See as in little space,
Cute, it above took the place
Tired, tired, its beauties that it let fall !
O really Natural cruel mother,
Because such a flower lasts
That from the morning to evening !

Thus, if you believe in me, cute,
Whereas your flowery age
In its most green novelty,
Pick, pick your youth :
As in this flower the old age
Will make tarnish your beauty.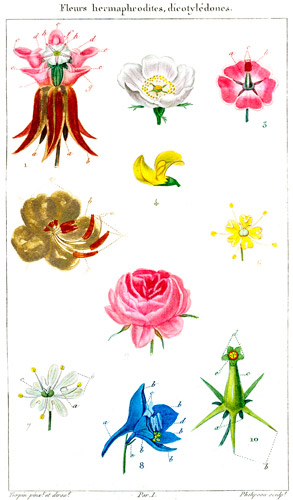 In the center, a rose
Lessons of flora of J L M Poiret 1819
What we said in 1690 in the dictionary of Furetiere :
ROSE. Spring flower which is very nice-smelling. The ordinary roses are the pale roses. The roses of Provins are very red. There are white roses, roses in hundred leaves, roses of trémière, dog rose, muscatel wine of Gueldres. The roses of Damascus who are white surpassed in virtue all the others. The least leafy of the roses produces five (leaves, and from there they always keep increasing. We call the nail of the rose, the part white with its leaf, which is the closest to its tail. We call marriage, the small points of its flower which wrap its button, and which open, when it blooms; and the button which stays after leaves fell, is called scratch-bottom. There are resurrection plants, which being dry preserve during a large number of years, and bloom, when we dip their tail into the water: the superstitious want whether it is some holy water, and during the Midnight mass. We hold that the resurrection plant is of use to the pregnant women, and which free themselves, while the rose blooms.
Matthiole.
In Latin rosa, in Greek rhodos.

We say that in China there are roses who change color twice a day, and who are sometimes of color of purple, and sometimes whites.
Saint Basile says that in the birth of the world the roses were without thorns, and that they had points, as the people despised their beauty.
We call rose water, the one who is made of distilled roses. We make pink cans of, syrups, bags of roses, dyes of roses with diverse preparations of roses.

Rose, in terms of Blazon, is called steady, when she is represented with her tail. It is sometimes of the same, and sometimes the various enamel, but always spread, and sometimes with the points of the chair of an enamel different from leaves.

Noble in the rose, is a former currency of England which was gold, and marked with a rose.

Rose of gold, is a rose which the Pope is in the habit of blessing in the Mass of Sunday of Fast, where we sing, Laetare Jerusalem, where he carries after the Mass in procession, and that he sent later to some Prince Souverain.

.../...

Photography of the week 10 of 2013