Since a few months, in France, a news item lifts the indignation of the defenders of animals : two rather old elephants named Baby and Nepal must be euthanized, suspected of being expanding of tuberculosis. Their fate is at present unsettled, after intervention up to the summit of the state.

(Read the narrative of this news, in French, on the blog 'Animal on est mal' ).
This elephant red-blood could be the symbol.
It is about a graf in stuck posters, works of a Lettish artist whose only signature is this machine-gun-parlophone, symbol which we meet in several places of Riga (if the author wants to be made I shall quote him gladly).

This elephant could be as well the symbol of declarations as have just made of NGO during the Convention on the International trade of endangered species:
" The international Community failed to protect the elephants ", some being afraid that the elephants of Africa disparaisent before ten years. (Read the article in Le Monde, in French)
And to complete some historic allusions.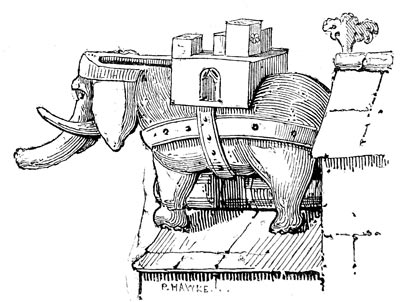 Elephant - Gargoyle
The Magasin pittoresque - 1841


What we said in 1690 in the dictionary of Furetiere :
ELEPHANT. The biggest, the strongest and the most spiritual of the ground animals in four feet. He has little hair, similar to that of the buffaloes, also-although his leather, which is black, thick and hard to drill, whatever we feel(smell) him(it) soft to the touch. He has the big head, the short collar, the wide ears of two palms. His nose, which we call its trunk, is long and hollow as a big trumpet, and it is of use to him ) as hand. He is made by a big cartilage which hangs on him between teeth. His foot is round, wide of two or three palms, any place setting of calli, and has five nails similar to Saint Michel's shells; and his tail is made as that of buffaloes, three palms of length.Of his simple step he reaches the people who run, and he is three miles per hour. He has the foot if on, that he never takes a false step, and he is: good to cross mountains. He swims better that no other animal whether it is, and he lies down and he gets up with the same ease as make the other animals, against the opinion of the Former, which believed that he had no joints. We chain him by the hind leg, and we attach him to a tree, or to something which is not difficult to shake. We make, sometimes, the elephants fight, who collide of their teeth as the bulls of their horns. All at once of trunk they kill a camel or a horse. He lives in the campaign of leaves and fruits. He can endure neither rein, nor stop ; he does not let obey his governors, whose language he understands. The Authors tell several fabulous marvels, most, to there which we say that if we order him to frighten some, he runs towards him in fury as if he wanted him to tear in to pieces; and when he is close to it, he stops quite short without hurting him. Universal joint says that the teeth of elephant can weaken and spread as the horns of ox : but this secret is unknown at the moment.

We take elephants by bringing down them in traps or hollows covered with sieves and with a little ground. But if they are once escaped from it, they tear away a branch with their trunk, and sound the ground, to see if it is firm. We also take them with barricades made in narrow places, where there is a female in heat which calls them. She lies on its back to wait for them, against the nature of the other animals, and gets ready for it a bedhead of leaves and branches of trees raised by four or five feet. They never cover their soles whatever heat they are, as long as they see somebody.
They wear one year. When they are once taken, they do not touch any more the female. They enter nevertheless sometimes heat, and then they make so furious, that they do not stop that they sacrificed somebody to their fury, or if one not their presented of the fireworks, after which they are hardly traitables. They sometimes live vingts one hundred or or hundred and twenty years, and grow until thirty. Their defenses are the ivory which we see somewhere else. We saw it of the length of a height gauge, and big as the thigh: and although the elephants are very common in India, we do not let sell the beautiful four or five thousand of ecus. We saw high elephants of thirteen or fifteen feet.
Those of Ceylon are the smallest, but the most estimated; and others, whatever country they are, by a natural instinct curtsey to them. This animal has so much shame and resentment of the punishment, as the people.

The King d' Achem them made honor well, makes them carry parasols, which the people do not dare to carry ; he marries them in ceremony with the females; and when he is angry with them, he removes them all these honors, with which they are extremely irritated.
Those of Bengal adore a white elephant, who is so rare, who they estimate it a holy thing. King Indiens often gave bloody battles to possess them. We say that he is there only in the Kingdom of Siam; and that Kings of this country handled them for a long time, as they would have made some Princes of their neighbors who would have come in their Court.

Mr. de Choisy says in his Relation, that he saw in the second court of the Palace of King de Siam this famous white elephant who cost the life to five or six hundred thousand men during the wars of this King with That of Pegu (region of Burma). He says that he is enough tall, very old and wrinkled, and has the wrinkled eyes. There is always with him four Mandarins with fans to refresh him, foliages to chase away the flies, and parasols to protect him from the sun, when he walks; that we serve him(it) only in golden crockery, and that he saw in front of him two golden muds, the one to drink, and the other one to eat. We give him some water guarded for six months, the oldest being the healthiest. We say that there is a small ready-made elephant to succeed the old man, when he will come to die. He also says that there is an Elephant Prince, who is the biggest and the most spiritual of all the elephants, who is the one that King rises. He is proud and indomitable in quite different; and when King adorned, he kneels down.
( Read the continuation, resulting from another text, below )

The space of five hundred steps Peyrard told to have seen carrying to an elephant with its teeth two artillery of cast iron attached together with cables, weighing each three thousand pounds. The elephant is of use to the war, and he carries an iron six feet long piece of ordnance with his carriage, which carries a coal nut of a pound. Every elephant a day needs hundred pounds of rice to feed him. We make it balls with some butter and some sugar.
The shout of the elephant is called trumpets.
There is also an elephant seal described by Boëtius in the Relations of the Scotland, but the way which is completely fabulous.



The white elephant of Siam
The Magasin pittoresque 1840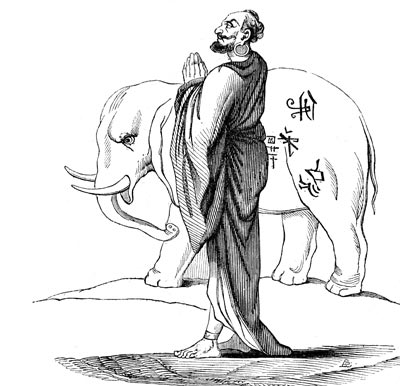 White elephant of Siam
The Magasin pittoresque - 1840
Legend of origin of the engraving: " Xe-Kiam, leader of the Bonzes, is Xaca of the Japanese. We say that her mother, having seen a white elephant, was pregnant of her son for nineteen years and died during the childbirth. Her son believed to have to withdraw from the world to make punishment : he studied under four teachers and taught forty nine years. He entered China sixty three years after the birth of J.-C. "

.../... In another chapter, the abbot reports in these terms the cause and the consequences of the wars of Pegu :
" King of Pegu having learnt that king of Siam had seven white elephants, sent him to ask for one: we refused totally. He sent back, and threatened to come to ask for it himself at the head of 2 000 000 men : we laughed at his threats. He came, besieged for a long time the city of Siam, forced it, did not nevertheless enter the palace of king, draw up two equal theaters to the door of the palace, the one for him and the other one for king of Siam; and there, in big ceremony, made requests which were so many commands. He asked at first for six white elephants who were delivered to him. He says with a lot of affection to king of Siam that he loved his second son, and that he asked him to put him to him between hands to take care of his education. So, with a lot of civility, he took all that he wanted, and returned to Pegu with immense wealth and infinite number of slaves. He did not touch pagodae, because the religion of the Siameses and that of Pegu is the same: only one of his soldiers having entered the pagodae of king, cut a hand of the big golden statue: we since put back an other one, and I saw the scar. "
The worship of the Siameses for the white elephants did not adorn to be lesser today than in the seventeenth century; we return them the same honors. " Each of these elephants, says a modern traveler, has a separate cowshed and ten guards for domestics. The defenses of males are furnished with golden bells; a chain with golden stitches also covers them the summit of the head, and a small pillow of embroidered velvet is fixed to the back. They have all the royal title, and we distinguish them between them by nicknames which they owe to their beauty, to their size, or to certain features of their character. "
See the page in French, La Fontaine's fable "The Rat and the Elephant" illustrated with an engraving

Photography of the week 11 of 2013