Photo of the third week of April 2012
Disney-land in Marne la Vallée
These days of April 2012 Euro-Disneyland celebrated its 20th anniversary.

Although living in the region for a long time, I've never been in this place a bit of gaiety dummy that tend to annoy me. But Disney Land has become the landscape of this small piece of the Seine and Marne, and minds.


From my archives, first of all this girl's ears Mikey, then the site of Euro Disney in the landscape, and finally a sign of protest at the time of submission of project implementation in the fields of Disney Marne Valley.
Photos for the week 16 of 2012
---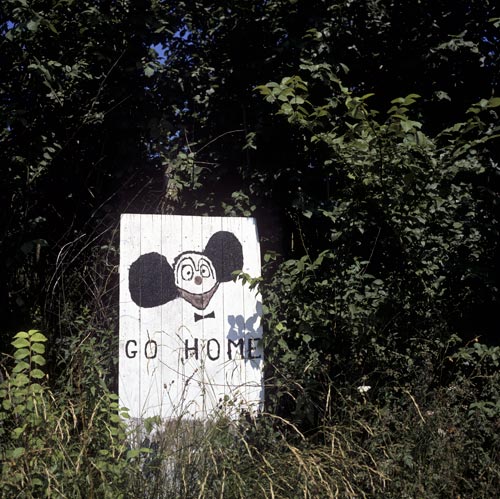 ... In 1987 some residents of nearby villages exclaimed 'Go Home' ...

Marne la Vallée - 1987 - Dia 6x6 - d120graphm07v08a87 - series Photo of the week

---



Deposite of Copyright against any commercial use
Photos, texts and/or reproductions published on this site
See explanations on the page "Using"