This year, in a big part of Europe, it had many rain, what is favorable to snails. Before they hide and before they return massively to autumn, in roaming here is to some level with the ground or in the airs.

In the descriptions below we speak about snails ravaging cultures or other carnivores.
I remember, being a child, letting a big snail of Bourgogne climb on my hand, have been surprised by a rather painful plucking :
this one was enjoying my soft skin !
Description extracted from the dictionary of agriculture of Barral and Sagnier of 1892
SNAIL. — .../... Snails are hermaphrodite and oviparous. They couple during the beautiful season in variable periods following the latitudes; they produce from 60 to 80 eggs round and wrapped with a light calcareous layer ; these eggs éclosent at the end of twenty in forty days, according to localities.
All snails feed on leaves, shoots, bark and fruits, and sometimes cause great damage to gardens and vineyards. During the day, they keep hidden under leaves, under rocks or in holes in walls. With the approach of winter, they burrow into the ground or hide in holes, close the lid of the shell with mucus, sort of epiphragm that protects against harmful agents, they remain so for five to six months without eating and a numbness or drowsiness, deep in the shell state. It is on the leaves at the base of plants and tree trunks as snails lay their eggs.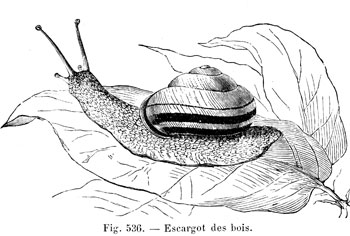 Snail of wood - illustration of the article
In the spring the snails wake up and begin to live at the expense of plants. We destroyed many by picking the evening or morning, or after a gentle rain or rainstorm. Hedgehogs, the Badgers, the Hawks, Crows, etc.., While also destroying many.
Snails result, in Paris, an important trade, because we eat a lot. Most Wanted come from Burgundy, Champagne., Poitou, etc.., That is to say wine regions, where the soil is limestone. They are sold at one hundred and shipped in bags or racks. Those that are harvested during the winter, while the opening of the shell was walled by a limestone exudation are the most esteemed. In the spring, all edible species have less commercial value.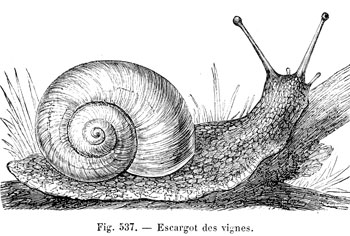 Snail of vineyards - illustration of the article
In certain localities Snails are raised and one manured artificially to deliver them then to the trade ; it is a rather fruitful special industry.
Snails caused big damage in 1843,1846, 1853 and 1867 in the vineyards of the inhabitant of Bordeaux. These Mollusks were so many there that on diverse points stocks were completely deprived of their leaves. In 1867, several mayors were forced to take orders to prescribe the burying of the Snails which the pupils of primary schools had collected.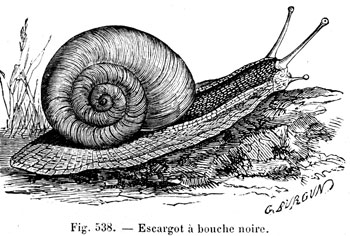 Snail with black mouth - illustration of the article
Partial description for the term Helix (Snail) extracted from the dictionary of Natural History of Guerin of 1833
HELIX

.../...
Romain, according to what says to us Pline, made a rather big consumption of snails, and it seems that they raised them in enclosures arranged specially. The best snails came, as it is said, from the island of Astypalée, one from the Cyclades; those of Sicily, the Balearic Islands and the island of Caprée were also very esteemed ; it seems that we also contained them in places arranged specially and that we manured them with some flour and diverse food there. Today still we look for these animals in many countries ; some half civilized peoples eat them smoked porks from Réunion island, it is to be said dried out in the smoke; others cook them and give them varied enough preparations.
In many cities of France, they are brought to the market (mainly Helix pomatia), and it is nobody in Paris which noticed it in the door of the chemists or the foods shopkeepers. Sometimes we make with the snails of broth the mucilage of which is useful against certain diseases of breast or stomach; but the special properties which we wanted to grant them are completely unfounded, and it is with good reason that we have respite to indicate them in the treaties of therapeutics.

Georges Tarenne, author of the Cochiopérie, recommended them in the treatment of hernias ; he uses for it the blood which he obtained from the animal, by pricking this one with an sharp instrument, and puts it by way of cataplasm on the ball of the bandage. Two or three hundred snails employees so hanging a few months are enough, according to him, for a complete cure. Some other uses of the animals which occupy us were also indicated; they are neither more rational probably nor more effective.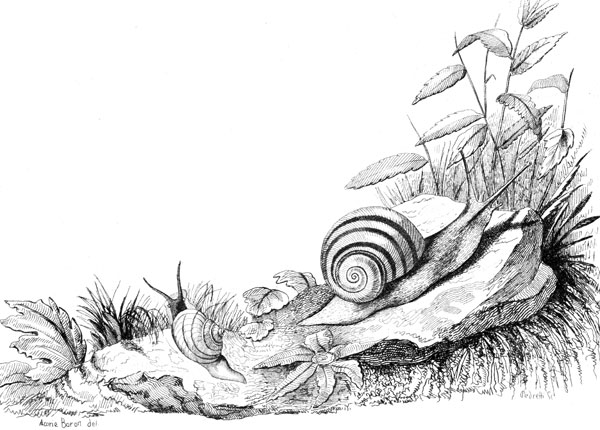 Snails - illustration of the article, signed Acarie Baron ( draftsman) and Pedretti ( engraver)

Snails live in wood, in gardens or in meadows; they hide during the drought and go out usually only during wet weathers, especially after the stormy rains; some however appear to resist the drought, and it is there that we see on the driest rocks and in exposed to the sun places. They live several years and spend the winter in a state of slumber, under cover in their shells, and protected mostly against the harmful agents by the opercule which closes the opening of their shell, but which is not a part(party) fixed to the foot of the animal but only a product of secretion.
Les escargots vivent dans les bois, dans les jardins ou dans les prairies ; ils se cachent pendant la sécheresse et ne sortent ordinairement que pendant les temps humides, surtout après les pluies d'orage; quelques uns cependant paraissent résister à la sécheresse même, et il en est que l'on voit sur les rochers les plus arides et dans des lieux exposés au soleil. Ils vivent plusieurs années et passent l'hiver dans un état de somnolence, à l'abri dans leurs coquilles, et protégées le plus souvent contre les agents nuisibles par l'opercule qui ferme l'ouverture de leur coquille, mais qui n'est point une partie fixée sur le pied de l'animal mais seulement un produit de sécrétion. In some cases, snails do not form a real opercule; they apply the opening of their shell against the walls of a wall or to the bark of a tree, and a kind of foam which they produce seals them, so to speak, in the point of support.

Almost all feed as well on leaves of the vegetables as on their fruits; they sometimes attack the linen and also the paper when they find in their reach there; some species are considered as carnivores ; one of the most remarkable, under this point of view, is the one that we name in our Southern provinces the Steelyard, Helix algira. It casts, as well as noticed it Laurent, on the other Snails and devours them ; the Provençal farmers, to whom this fact is well known, crush Steelyards all the times when they meet them, because they attack certain species as themselves collect to sell them.
.../...
Photography of the week 24 of 2013