It is not of the photography, but a detail of a former engraving in four-color process, worked again for the opportunity.
But the reprography is as a work of photographer, and as one of the tasks in which I forced myself :
- Give Internet users the rich geographical iconography which I have,
such this engraving in four-color process of the port of Porto in Portugal.
However this type of engraving is rather reserved for my other site of the Photographic visits. (Visites photgraphiques, in French)
So this engraving can be seen in its entirety in the page of the Unloading of fishes in Porto,
followed by miscellaneous other texts pulled by encyclopaedic dictionaries at Porto and Portugal (in french)
any pages illustrated with engravings, which have also been on-line publishing.
This street scene finds itself in this section because it is about a representation close to the photography,
and also to present you other types of images...
What we said in 1690 in the dictionary of Furetiere :
PORTO, city of Portugal, is situated towards the mouth of Duero, and is the bishop's see appearing of Braga. It is Portas Calensis or Ciudad de Puerto, who gave the name to the kingdom of Portugal. Those of Netherlands names it Port-a-Port. This city is in the province, between Duero and Minho, approximately in a league of the Ocean, and is one of more considerable of Portugal, both by its trade and by its age. Its situation on the tendency of a mountain, does not contribute to make it convenient; but besides, its streets are clean, and on the river bank reigns a beautiful platform of an end from the city to the other one. Its harbor is a harbor of barrier, where vessels can enter only in the time of the high tide, and under the direction of a pilot of the city; how is it that we did not trouble to strengthen it. The natural harbour is spacious, and can contain a big fleet. Porto is not hardly populated in wartime but in peacetime trade attracts it foreigners' large number. There is a sovereign council, which is the second of the kingdom. *Rofendius, in antiq. Lufit.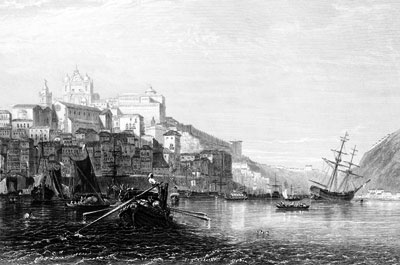 Porto in 1842, extracted from the Handbook of universal Geographie of Malte-brun
(To see the engraving in large format)
Photography of the week 19 of 2013