Photo of the third week of May 2012
The wall for the Peace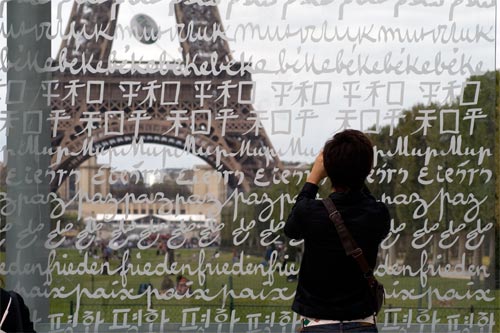 ... Peace in all languages ??to one of the symbols of the Republic ...

Paris - 2007 - 10 Mpx - canon400da_0889 - series Photo of the week

Recently reread an article Evelyne Pieiller 'Wall of Discord' published in 'Le Monde Diplomatique' of April 2012,
I remembered these photos taken in 2007.

To read this article, this wall was erected in 2000 in Paris on the Champ de March, and is the work of artist Clara Halter and architect Jean-Michel Wilmotte.
Written in forty-nine languages and alphabets eighteen repeats the word PEACE on its glass panels and thirty-two columns.

Originally installed for the celebrations of the new millennium, it is still in place, has undergone several degradation and its fate seems still unresolved to this day, its durability being not legally guaranteed.

It is hoped that such a magnificent symbol can be maintained.

Also read the Wikipedia (subject only in French) article and see the site of the Wall for Peace Association, and the Web-site of Wall of Peace
Photos for the week 20 of 2012
---
---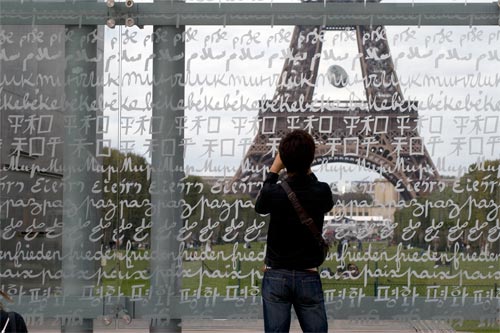 ... Peace, looking at the Champ de Mars, between peace and war ...

Paris - 2007 - 10 Mpx - canon400da_0888 - series Photo of the week

---



Deposite of Copyright against any commercial use
Photos, texts and/or reproductions published on this site
See explanations on the page "Using"