Sarlat is a typical French town of black Perigord, country of the foie gras.
I had the opportunity to spend two short days there, who allowed me to make a brief report (in French) of about sixty photos published on my other site of the Photographic visits, under the title, Sarlat in some blow of eye (Sarlat en quelques coup d'œil).
The photos of this page come to complete it by views which lend themselves more to the musing, it seems to me.
Article extracts from the magazine 'Le Magasin pittoresque' of year 1850.
SARLAT (Département de la Dordogne).
The little town of Sarlat, administrative center of a district which we sometimes call black Perigord, is situated in a somber and profound valley surrounded with mountains covered with sweet chestnut trees. Its little known history became confused with that besides of Perigord : it is likely that the frequent floods to which it is exposed and its estrangement of any big communication route would have made it abandon formerly of its inhabitants, if it had not been the seat of a old bishop's palace. Its title of administrative center of canton, its business, keep it a sufficient activity today.
It is sad : its streets are tortuous, but they are lined, for the greater part, with elegant houses of Gothic style, and especially with style of the revival. Those of the period of François Ier and Henri II are the most pleasant.
We give as example the house where was born Etienne La Boetie.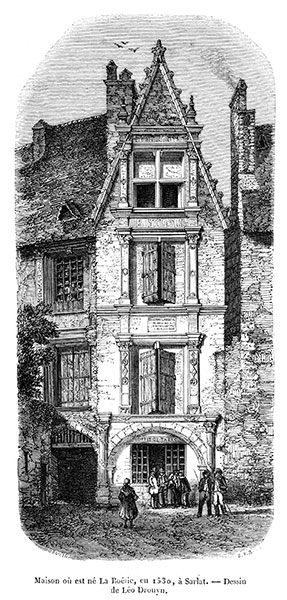 In ' Le Magasin pittoresque' year 1850
The shop window on the street was a 'Tobacco store'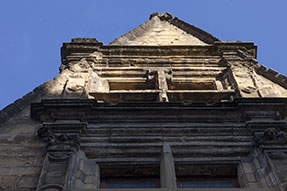 The facade reminds the nice time of the revival. A lowered main entrance opens between two columns surrounded with strips and topped with capitals covered with fantastic animals. Three floors overcome the rez-de-wearing ; in each of both first ones, we see a single window between two pilasters covered with medallions; above is a very-acute front wall with gargoyles and frizzy hooks, and a crossing with two topped pilasters.

Il est probable que les fenêtres actuelles des deux étages inférieurs ont remplacé des croisées semblables à celle du troisième. Entre les deux fenêtres du premier et du deuxième étage, on lit l'inscription suivante :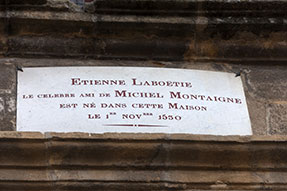 " Etienne La Boetie, the famous friend of Michel Montaigne, was born in this house on November 1st, 1530. "




Photography of the week 6 of 2014