As a supplement to a report realized in Bordeaux in 2010,
visible (in French) on one of my other sites and published at the same time as this page,
here is some other photos to illustrate this city full of character.

The photos of this page, quite made in Bordeaux, aim to be rather symbolic of this city.
It is true however that I traveled this city only during 2 half-days and that my look can be only superficial !
Other one puts into series, quoted higher, published on my other site of the photographic Visits,
show the city in its landscape and its streets.
Article on the city of Bordeaux, extracted from the dictionary of Ivigne of 1663
Bordeaux city, County and Archbishopric of the Metropolitan of all Guyenne, sat on the Garonne meadows Ocean.
She was formerly called Aquita, because of the abundance of her waters which gave the name in Aquitaine, because its word Burdegala is modern. Pline and Ptolemee calls its inhabitants, Bituriges vibisci.

It was burned by the Saracens and the Normans, and was rebuilt on diverse occasions, increased in such size as it contains well the third part of Paris : it still sees itself there several remarkable vestiges of its former magnificence, such as its Tutele palace, such as we estimate to have been a temple dedicated to the Guardian Gods or Guards. And the Palace built Galien, according to some, of the time of Emperor Galienus by one appointed Beat Governor of the country, who was formerly a very-beautiful Amphitheater, called also Arena, because of the sablon the place of which they paved where they made their jousts and tournaments.
We also see in this city a high grave raised on stones, which is full nevertheless always of water when the Moon is in its height, and decreases as the Moon decreases.
Seguin or Sevin, Father de Huonde Bordeaux, whose marvels our Romain says, was established the first Count by Charlemagne, while he had given it with all Guyenne to his son Louys. The Parliament was established for all Guyenne, the year 1499 there under Louys XII. There is also Admiralty, for the fact of the navy has an office of the finances, and a University law there.
Ausonne private tutor of Emperor Gratian honored it by his papers.
S. Martial was their first Apostle; and of present Archbishopric, having under its authority is about 950 parishes, and on which depend the Bishop's palaces of Agen. Poitiers, Luçon, Angouleme, Xaintes, Perigueux, Maillezais, Condom, and Sarlat.
There was a Council under the authority of Pope Syrice celebrated against Priscilian, the year of grace 385.
Prosper in his Chronicle.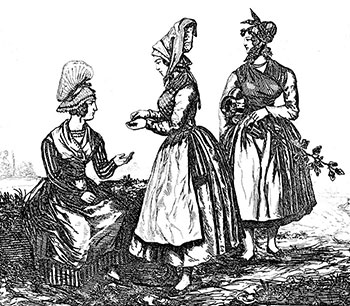 Costumes of Bordeaux - La France pittoresque, of Abel Hugo - 1835





Photography of the week 50 of 2013